Merg Ross: Capturing Elegance
by Eric Biggerstaff

This profile appeared in the September/October 2006 issue of View Camera magazine.
Elegance can be defined as a restrained beauty of style, a balance of compositional elements where each complements the other and none compete for attention. The concept is easy to understand, but very difficult to master. One reason it is so difficult to master is that each of us has a different idea of what belongs in a composition, what is important and what should be left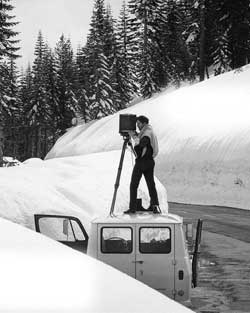 aside. It is often said that good composition cannot be learned, you simply know it when you see it. This can be said of elegance as well. Master photographers have a talent for creating simple, thought provoking and elegant work that leaves those of lesser talents wondering how they did it. Elegance is one of the hallmarks of a great photograph.
One photographer who has successfully captured elegance with his camera for over fifty years is Merg Ross.
Son of well known San Francisco area commercial and fine art photographer Donald Ross, Merg was working on his art when others his age were reading comic books and playing games; "My first camera was given to me by my grandmother when I was ten years old. It was a box camera, a cardboard box camera, with a pinhole for a lens and a spring-loaded shutter. It was called an Encore camera and at the end of twelve exposures the user would cut a slit at the appropriate place on the box, stuff a dollar bill inside and mail it off, I believe to a place in Hollywood. Two weeks later a new camera would arrive along with the prints from the previous camera. The first results were pretty much what one would expect from a ten year old with a pinhole camera, a picture of Grandmother, the family cat, portraits of my sister and parents. But soon I tried to do close-ups of objects around the property; rocks, plants, a cow skull and the results were disappointing, nothing was ever in focus. I didn't realize the limitations of the camera."
His frustration would not last long however, when, shortly after his twelfth birthday, his father would help set the course of Merg's life: "One afternoon in 1953, Dad brought home from his darkroom an old wooden Sanderson 4X5 with a 7 inch lens, a Grafmatic film holder, tripod, darkcloth and light meter. He set up the camera focused on the cow's skull, and instructed me to pull the darkcloth over my head and look at the ground glass. I can remember vividly that moment on a fall afternoon in 1953, there before me lay twenty square inches of image and all was in focus! Dad then gave me a five minute lesson on how to use the light meter, and later that afternoon, how to develop film and make a contact print. That day changed my life forever; I wanted to be a photographer!"
As a young boy, Merg would often accompany his father on visits to their close family friend Edward Weston at his home in Carmel. Weston would bring out stacks of 8X10 contact prints and Merg would spend hours going over them, by the age of ten he had seen more original Weston prints than most photographers and curators see in their lifetime. These sessions would have a lasting and important impact on Merg's vision as an artist; "Those visits with Weston are what triggered my passion for photography and my desire to become a photographer," Ross recalls. As the years went by,Merg continued to visit Edward who, despite being ill with Parkinson's disease, continued to encourage Merg in his desire to become a photographer.
Not long after his first view camera lesson, Merg was using his 4X5 camera photographing alongside Brett Weston and his father during camping trips in the Sierra Nevada Mountains, Mono Lake, and the many abandoned mining towns that dot the Eastern side of the Sierra. Recalls Merg; "Often we camped at Mono Lake in California. Usually Brett and Dad would be on the shore early to catch the light, with their 8X10 cameras pointed at the lake, mountains and sky. I can still hear the two of them bellowing epithets, accusing the other of being Wagnerian. I was content to work far from the shore with my 4X5 camera, composing close up abstractions of abandoned machinery and ice formations." Merg was encouraged by the abstract images he was creating and in 1954, at the age of thirteen, was invited to participate in a group exhibit at the San Francisco Museum of Art titled Perceptions. The exhibit featured the work of 46 Bay Area photographers and later traveled to the George Eastman House.
During Merg's senior year in high school, he purchased an old Ford coupe, outfitted it for camping and began planning a cross country photo trip that he wanted to take as soon as he graduated, as he says, "my senior year was spent daydreaming and preparing for a road trip across America." His plan was to photograph and meet photographers whom he had heard of but never met and knew only by reputation. Merg had contacted some of these photographers by mail and others were suggested by Brett who supplied names and addresses.
First on his list to visit was Aaron Siskind in Chicago. One evening, about six weeks into his trip, Merg mustered up the courage to give Siskind a call from a Chicago suburb. Siskind was very kind and Merg immediately felt at ease, the two photographers met at Siskind's apartment on a Sunday afternoon. When Merg arrived, he pulled out a cardboard cookie box that served as a portfolio case for his contact prints and nervously showed them to Siskind. Much to Merg's delight Aaron liked his work and invited Merg to show them to his class at the Institute of Design where Aaron taught. In addition, Siskind arranged for Merg to use the school darkroom and introduced him to Harry Callahan and his wife. Merg recalls, "Aaron was a wonderfully congenial person and from our meeting in 1959 to the year he died we kept in touch."
Upon leaving Chicago, Merg continued east and over the next several months met Beaumont Newhall, Edward Steichen, Peter Stackpole, Arthur Rothstein, Paul Caponigro, Ralph Eugene Meatyard and many other notable photographers; "I was only 18 at the time and often recall the kindness and encouragement extended by these and other persons during my journey. I believe that the innocence of youth was the key ingredient; there was no competition or threatened egos, nor was there any dissuasion from continuing with my photographic pursuits. There is a fragility that accompanies this innocence and always the possibility of remarks leading to self-doubt. I received nothing but encouragement and whenever I meet with aspiring photographers today, some in high school, I recall my experience at a similar age." In the spring of 1960, after 8 months and 26,000 miles, Merg returned home to California.
In 1963, Merg was drafted into the Army and sent to the Army Pictorial Center in New York, the same place his friend Brett Weston had been stationed many years before. Later he was transferred to Thailand where he served as a battalion photographer and upon his discharge returned to the Bay Area to begin crafting a successful career as a commercial photographer. In the early 1980's he abandoned commercial assignments to concentrate his efforts on crafting fine art work.
There is no doubt that Merg is a "West Coast" photographer and well schooled in this esthetic. His work uses strong compositional elements, balance, and symmetry in ways similar to that of his father and the Weston's. His prints display the beautiful rich tonal quality so identified with photographers from this area. This is to be expected as Ross began his apprenticeship under such famous photographic influences, but Merg feels his vision was also strongly influenced by artists such as Klee, Picasso and Modigliani whose art he would study on family trips to museums.
Merg recalls how, as a child, he was intrigued by a small card tacked to the wall near Edward Weston's desk, on the card was a quote from Louis Armstrong that read "Man, if you got to ask what it is, you'll never get to know." Only later in life did Merg realize how significant that quote would be to his own work. Merg works in abstract compositions that rely on strong form and contrast to create a sense of mystery for the viewer. He feels good composition requires a respectful relationship between photographer and the subject, "I approach a subject free of any preconceptions, preferring instead to explore the relationship of the subject to me as the photographer. This is true whether the subject is a person or an object, the subject becomes the photographer's partner and the experienced eye seizes on this partnership to produce a successful result. Good composition is an intuitive process." In many ways Merg continues to work in the same style he did as a teenager, however he feels his more recent work pushes the abstract boundaries to the extreme; "I do not believe that my vision has changed dramatically in the intervening fifty years but it has become more refined and less tentative. Not all of my work is abstract in nature, but I consider my most successful images to be in that vein. They are merely photographic records of the ordinary, things often missed by casual observation."
Throughout his long career, Merg Ross has shown his photographs in many one-man and group shows and his work resides in several museums including the George Eastman House, Art Institute of Chicago, Museum of Modern Art, Center for Creative Photography, Yale University Art Gallery and the Princeton University Art Museum, David H. McAlpin Collection.
Merg Ross is by all accounts a master photographer, able to use his keen perception and technical skills to bring elegant life to his abstract photographic vision. At a time when the idea of elegance seems to be a fading concept, it is worth taking the time to study the work of Merg to remind us what we as photographers should all strive to create.
My thanks to Steve Simmons of View Camera Magazine (www.viewcamera.com) and Eric Biggerstaff (www.ericbiggerstaff.com) for their permission to use this article.