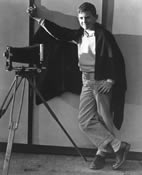 1954

Merg Ross was born in California in 1941. The son of a photographer, he grew up in a community of West Coast photographers and as a youngster met many of the prominent practitioners of the day. He credits his family visits to the home of Edward Weston as the inspiration for his life in photography, and at the age of twelve began photographing with a 4x5 camera. At thirteen, Merg was represented in an exhibition of photography at the San Francisco Museum of Art.
From that early time, he has never lost his passion for photography. His first employment was in the Photography Department at the University of California, Berkeley. This was interrupted by induction into the Army in 1963 where he was initially assigned to the Army Pictorial Center in New York City and later served as battalion photographer in Thailand. Upon discharge from the military, Merg returned to work at the University for several years before striking out on his own as a commercial and fine art photographer.
His photographs have been published and collected internationally. He is represented in numerous private and public collections, including the Museum of Modern Art, the Art Institute of Chicago, and George Eastman House.